14 décembre 2008
My recent purchases @ Etsy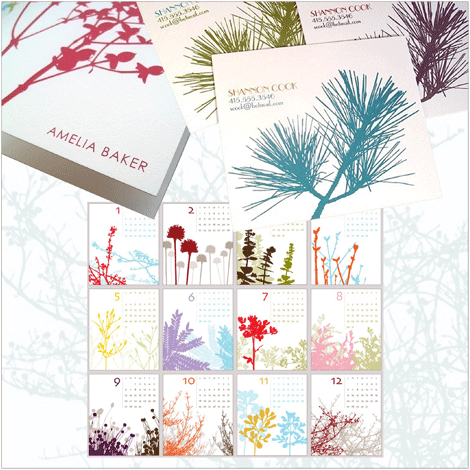 Anna Cote's beautiful custom prints and 2009 calendar.

I've tried to show here in this blog all things that i find beautiful. Now, what did I actually buy for myself lately? I did all kinds of purchases, not necessarily holidays related. So this is my list, and you can now discover what I truly heart.
Some of my fave sellers @ Etsy are :
Prints & Photographs:

The Green Chair Press: Prints for all typography lovers! They are hung on my living-room wall.
Anna Cote from "Modern Printed Matter". I bought my 2009 calendar from her. It doesn't show in the pic (above), but there are some iridescent details in her prints. Such a lovely surprise!
Labokoff - love her photos. Bought her "barrière" mini-print and had it framed. My camera is broken so the pics will come later.
Alicia Bock - another talented photographer. I bought for my own pleasure her "Solstice" print in a large format. I plan to cover a whole white wall with prints from artists i love, just like sfgirlbybay (see here what i mean).
Jewelry :
I bought a pair of lovely hoops with a floral ending from ShopClementine. I have to clean them with alcohol very often, otherwise they irritate my ears' skin, but other than that, they're lovely. They can be worn as everyday jewelry, for a first date or a special occasion: very versatile!
I'd love to buy a ring from julie Lake, but i have to wait til i have enough money - these are a bit pricey.
I also love the Pebble collection, spotted at the Scoutie Girl blog, and plan to buy a pair of quartz earrings soon!
Holidays:

Three kinds of beautiful vintage butterflies tags from "Blue Bird Lane"
A Holly template (very cheap, can be seen above) from "Apples in June" so I can print my own tags, gifts wraps, letters, etc... I also bought a custom dandelion stationery with my name on it. Beautiful, simple and oh so cheap!
Beautymist
Tags :
etsy
,
faves
,
handmade
Commentaires
Poster un commentaire